Royal Palace of Madrid
Casa Real is the official Residence of the Queen and King of Spain
even though the Palace is only used for official State ceremonies.
The palace has a scize of 135.000 m2
The Palace is owned by the State of Spain
and it is administrated by
Matrimonio Nacional
.
The Royal Palace can be visited by the public.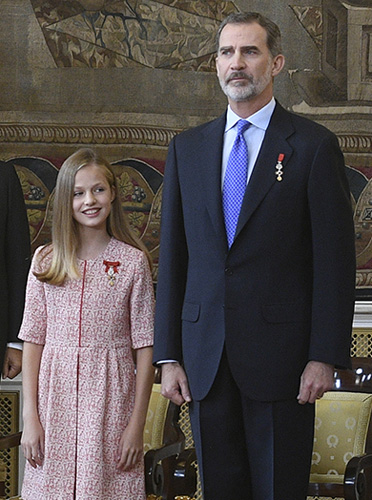 King Felipe VI of Spain and Crown Princess Leonor
The Palace iwas constructed between the years 1738 to 1755
for the King Felipe V of Spain (1683 - 1746)
a grandson of the French King Louis XIV.
King Alfonso XIII (1886 - 1941) and Queen Victoria Eugenie
were the last King and Queen to have lived in the Royal Palace.
The were the parents of the count of Barcelona, Infante Juan (1913 - 1993)
the grand parents of the former King Juan Carlos (born 1938)
and the great grand parents of the present King Felipe VI
Souvenirs of the Royal Palace