Museo del Prado
Museo del Prado, also called Museo Nacional del Prado
is the largest Museum of Spain and the 19th most visited Museum in the World.
The Museums most represented artist is Francisco Goya.
The Prado has a spectacular collection of European Art
composed of 1,000 sculptures, 7,600 paintings, 4,800 prints and 8,200 drawings
including many old masters like Peter Paul Rubens and Diego Velázquez.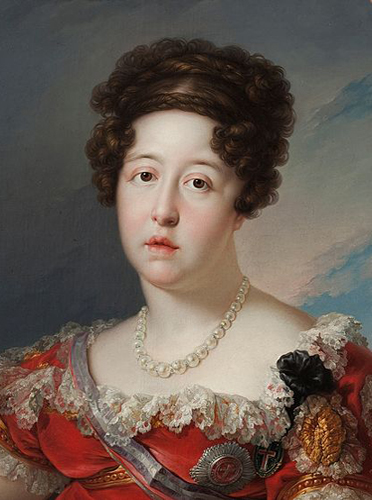 Maria Isabel of Braganza, Queen of Spain (1797 - 1818)
The building was drawn in 1785 under te reign of King Carlos III of Spain
by the Neoclassic architect Juan de Villanueva (1739 - 1811)
with the idea to create a Museum for National History.
The granson of Carlos III, King Fernando VII
was married to the young Maria Isabel of Braganza,
sister of Emperor Dom Pedro I of Brazil.
Queen Maria Isabel was fascinated by Art
and influenced her husband to change the plans
for the Museum that had still not opened.
This is how to the museum became
the "Royal Museum of peinture and sculpture"
opened
1819
, one year after the early death of Maria Isabel.
Later the Museum was renamed "Museo Nacional del Prado"
A Fundación Amigos del Museo del Prado and private donators like
Pablo Bosch or Ramón d'Errazu have enlarged the collection.
2007
the Museum was enlarded by new constructions of the architect Rafael Moneo.
Souvenirs of the Prado Museum