Museo Thyssen Bornemisza
Thyssen Museum, also called Museo Nacional Thyssen Bornemisza
is an Art Museum located opposit the
Prado
.
The Museum has a collection that started in 1911 with Heinrich Thyssen (1875 - 1947),
father of Hans Heinrich Thyssen (1921 - 2002)
The collection was once the the second largest collection in the World with 1,600 paintings
including main modern art master pièces like 3 Van Gogh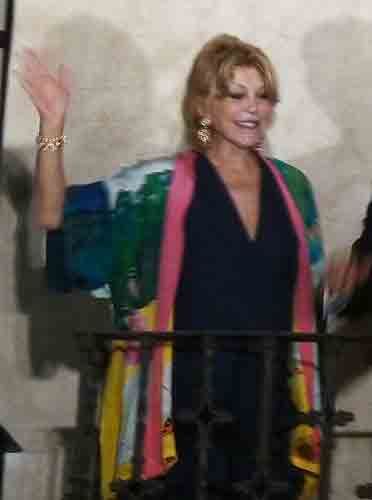 Carmen Cervera, Dowerage Baroness of Thyssen Bornemisza (born 1943)
The history of the Thyssen collection goes back to Friedrich Thyssen (1804 - 1877)
a German Banker and father of August Thyssen (1842 - 1926)
founder in 1891 of the Germany Thyssen steel empire now
Thyssen Krupp
.
August was the father of the brothers Fritz Thyssen (1872 - 1951)
and Heinrich Thyssen / later Baron Heinrich Thyssen Bornemisza (1875 - 1947)
Henrich used his income from the Thyssen estates to collect art
first based in his Austrian castle Schloss Rechnitz
before moving to his Villa Favorita in Lugano, Switzerland.
Heinrich was the father of four children
Margit Batthyány (1911 - 1989) and Heini Thyssen (1921–2002)
Henrichs family has a dark past in relation to the Nazi Regime and persecuting of Jews.
1945
march 24 was organised a "
Hunting Party
" at Schloss Rechnitz where 180 jews were killed.
The family was able to hide the crimes for which they were never sentenced.
Interesting article in German by a younger family member
Sacha Batthyany
Also read the two Books givinge more details about the background of the Art Collection
Baron Hans Heinrich called Heini
continued the collection.
His last and 5th wife Carmen Cervera, once a Miss Spain
convinced him to move the Art collection from Lugano, Switzerland to Madrid, Spain.
The move of the collection was accompanied by many disputes within the family
1992
Opening of the Thyssen Museum
1993
Unlike other Art collections, the Thyssen Collection
was not donated to Spain
but sold to the nation for $ 350 million.
At least the paintings are available to the public.
Souvenirs of the Thyssen Museum